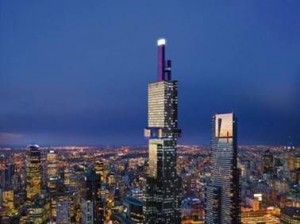 Australia's second-largest city Melbourne will have the tallest building in the southern hemisphere after approval Monday for a 388-metre apartment and hotel complex.
The Victorian state government said Australia 108 would become the world's 19th tallest building and would be "an outstanding addition to Melbourne's skyline".
Architect Nonda Katsalidis said the tall, slender building which will have 646 apartments, a 288-room six-star hotel plus retail and office space, was designed to throw a spotlight on the city's international identity.